Responsibility is embedded in our core values and shapes how we conduct our business.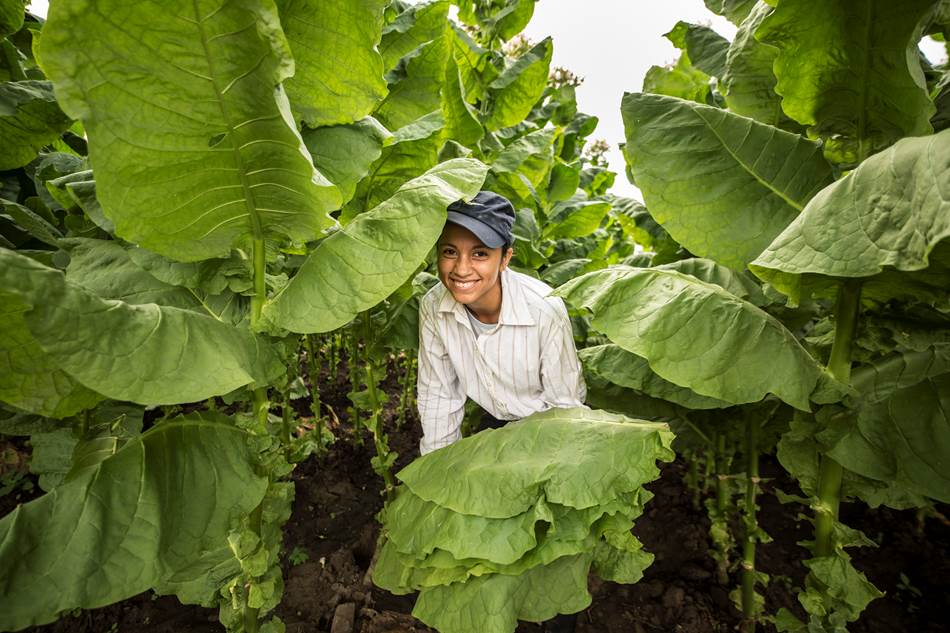 We want all of our internal and external stakeholders – commercial partners, employees, civil society, investors, regulators and others with whom we engage – to consider us a responsible corporate citizen. We believe our commitment to responsibility benefits our business, our employees, and the communities where they work and live.
We believe that good governance is central to responsible business practice. The Group's Code of Conduct sets the overall standard for how we act as a company and the behaviour we expect from our employees to ensure responsibility and high ethical standards across the business.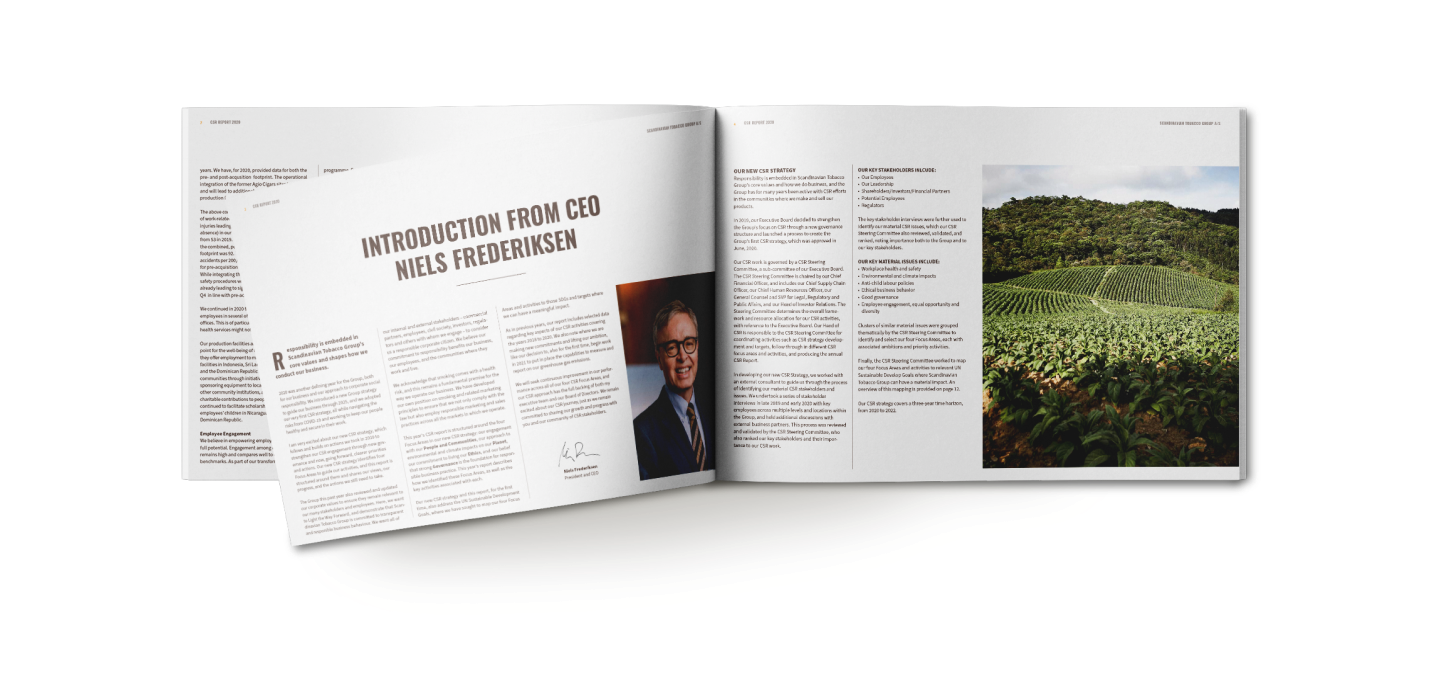 OUR VIEWS
Our view on smoking
Smoking is for adults only, and the health risk must be taken seriously by everybody. Every smoker should balance the pleasure of smoking against the risk involved, and then make a personal choice whether to smoke or not. We do not work to increase the number of smokers or to grow the total market for tobacco. We grow our business by growing our market share and by encouraging smokers to choose our products and categories over those of competitors.
Our view on regulation
Scandinavian Tobacco Group acknowledges that tobacco products are different from other consumer products and that the health risks associated with them require stricter regulation – in particular to prevent children and adolescents from taking up smoking. Tobacco products continue to be subject to increased regulation in terms of manufacturing, promotion, presentation, sale and consumption. We support proportionate and fact-based regulation of our products and market place. We ensure compliance with local laws and regulations. And when marketing our products, we apply self-imposed principles that in many cases are stricter than local regulations. When it comes to new regulation, we do what we can to ensure a balanced approach to our product categories. On the one hand, regulation should always take health issues and the protection of youth into account. On the other hand, regulation should also take into account that the typical consumer of cigars and pipe tobacco is a mature adult. The consumer profile and the different characteristics of the various tobacco product categories mean that legislation, where relevant, should differentiate between, for instance, cigars and other tobacco products. We want to be a trusted participant in the legislative process, and we have valuable input and views to share specific to our products.
Our view on diversity
At least once a year, and consistent with its policies and procedures, the Board of Directors discusses the composition of the Board of Directors as well as the Executive Board. Both the Board of Directors and Executive Board have and value an international profile. At present, four out of the seven shareholder-elected members of the Board of Directors are of a nationality other than Danish and a total of five nationalities are represented. Members of the Board of Directors hold a wide range of commercial, FMCG, financial, management and tobacco industry experience and qualifications. At the end of 2020, our eight Executive Board members represented five nationalities. The Board of Directors had set the goal that, by 2020, at least 25% of the shareholder-elected members of the Board of Directors should be women. The goal was reached in 2019 when two out of seven, or 28%, of the members were female, and this was also the case at the end of 2020. According to the Danish Financial Statement Act §99b, this distribution is considered an equal distribution. The Board of Directors has therefore set a new goal that, by 2024, 30% of the shareholder-elected board members should be women.
Our view on smoking

Our view on regulation
Our view on diversity

OUR 4 STRATEGIC FOCUS AREAS
Our four Focus Areas form the core of our new CSR strategy and are meant to give direction and coherence to our CSR work. We have identified priority areas for activity in each of our four Focus Areas.
Current activities in our People & Communities Focus area include promoting employee health and safety, advancing diversity and inclusion, maintaining strong employee engagement, and working with the communities where we make and sell our products.

In our Planet Focus area, our key activities include managing our resource use, waste, and associated impacts on the environment. We will also, moving forward, seek to better understand and mitigate our climate impacts by measuring, reporting, and addressing our greenhouse gas emissions.

Within the Ethics Focus Area, we seek to support human rights, including engagement to address child labour in our tobacco supply chain, and ensure our employees maintain high ethical standards.

And, in our Governance Focus Area, we wish to maintain responsible marketing principles and work to continuously uphold our zero tolerance principles again corruption.