Back
A TRANSFORMATION TO LEAD BUSINESS GROWTH
1. GROW OUR HANDMADE CIGAR BUSINESS
Scandinavian Tobacco Group's North American online and retail business is tackling a declining market with a modernisation and upgrade of the online platforms. This has already accounted for a significant part of the business' growth, with more to come.
If you pay a visit to CIGAR. com, you may notice a few changes encompassed in the transformation.
Scandinavian Tobacco Group's premium website for online sales in North America is now responsive for different types of devices, making it simpler for people use on their phones during lunchbreaks, has a higher end look and feel with more lifestyle images of people enjoying the products, a discussion forum with plenty of cigar-related content and a new loyalty programme to reward regular customers.
"The result is that the site is more premiumized and high-end," says Cassandra Smelko, Director Strategy and Transformation, North America. "We're bringing together responsiveness, design, loyalty and personalization to create an overall unique proposition, which is more sophisticated and provides a better consumer experience."
The overhaul of CIGAR.com is part of the transformation of Scandinavian Tobacco Group's US handmade cigar business, to create new sources of growth in response to a changing market.
Handmade cigar volumes have been in a long, slow decline leading up to 2020. The shift in consumers shopping at brick-and-mortar to online had stalled in the category, and competitors have been pursuing aggressive price policies. There are also regulatory and compliance headwinds, such as excise tax, sales tax, shipping restrictions and adult signature requirements.
"The modernisation of our online platforms represents the largest transformation in the history of the North America Online & Retail Division. In the first half of 2020 we have pursued a number of quick wins and initiatives that lay the foundation for some major, new consumer programmes and we are executing according to plan." says Heather Zdan, Chief Consumer Officer.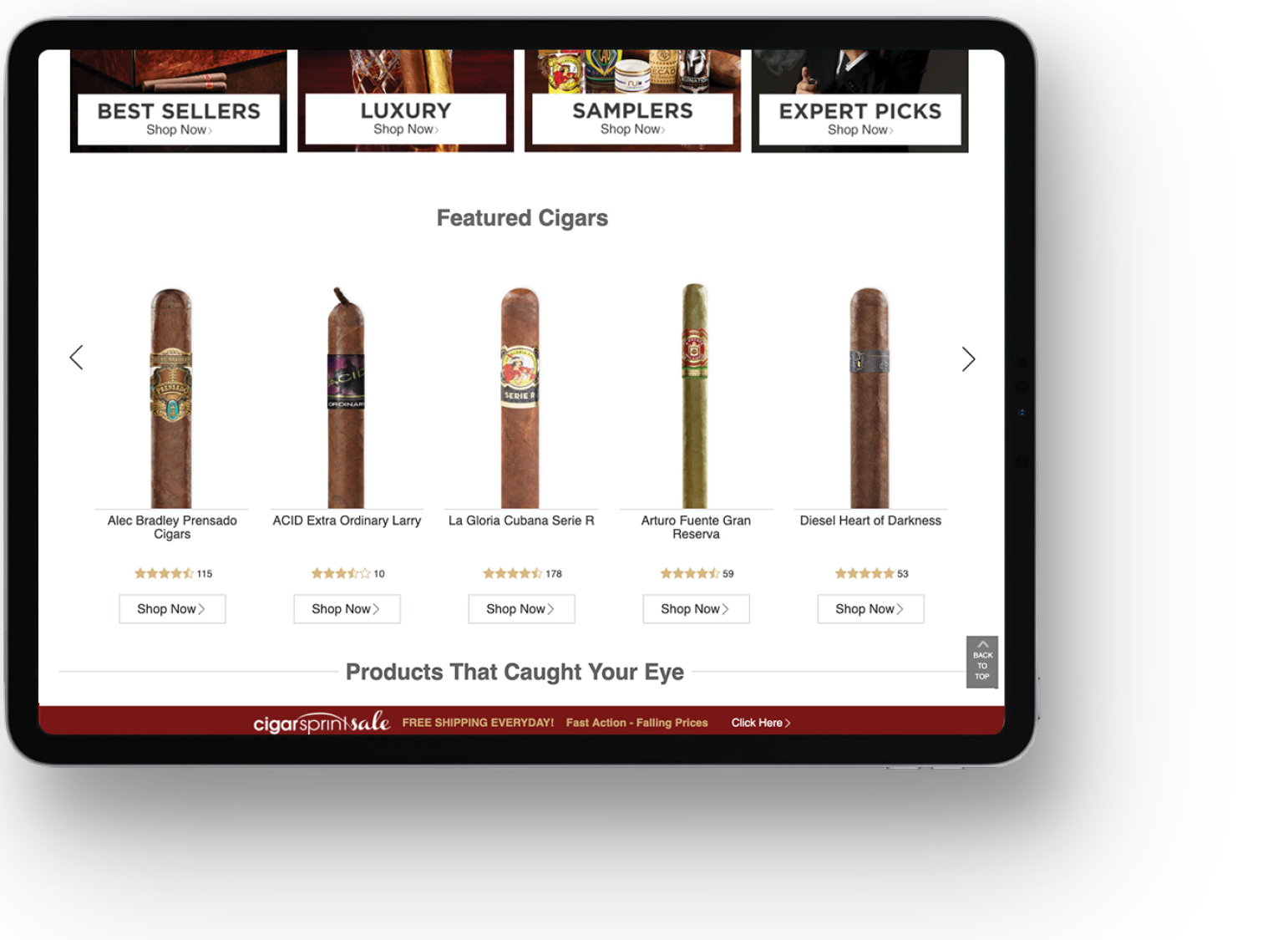 MORE PERSONAL, MORE LOYALTY
The aim of this multi-year strategy initiated in late 2019 which is expected to be fully implemented by the end of 2021, is to increase revenue and EBITDA. Each of the five direct to consumer business units focused on the handmade category will have a more distinct look and feel and a product range, marketing channels, promotion and loyalty schemes which are more differentiated. Four of the business units already exist – Cigars International, Thompson Cigar, CigarBid, and CIGAR.com. A new business unit will be introduced with an integrated social and community focus that also fosters an ecommerce retail element.
"It's about increasing customer reach and increasing share of wallet," Zdan says. "The overall aim is to deliver an exceptional consumer experience by digitalizing, improving user experience, introducing more personalization and adding more value in terms of loyalty."
PURSUING NEW GROWTH
The modernisation of the online platforms is being implemented in 17 workstreams, such as Personalized Marketing, Website Redesigns and Consumer Profiling. The five business units will address the unique preferences of the eight distinct consumer segments and their purchasing patterns, reinforcing existing strengths while also allowing the pursuit of new growth. Smaller business units are helping to unlock capital to fund those objectives – the Thompson Cigar Auction website has been shut down, customers migrated to CigarBid Auctions and marketing efforts optimised in the Pipes and Cigars business, which is experiencing a declining market. Responsive websites have been launched for Thompson Cigar, Cigars International and CIGAR. com, which has also been redesigned with a premium look and feel and personalized product recommendations driven by artificial intelligence.
The results are already showing. All of the key performance indicators are positive month-over-month and there has been a drastic change, with significant consumer migration to the online channel. From March until the end of 2020, NAO&R saw significant growth coming from these initiatives, and more is yet to come.
"We test new digital experiences with a small segment of our consumers to ensure changes are well received," Smelko says. "Overall, we're seeing positive results and we have learned some lessons along the way, but that's what allows us to serve our consumers even better in the future."