We are pleased to present our Annual Report for 2020; a dramatic year in which the resilience of our employees and business was tested by the COVID-19 pandemic and we still managed to deliver on our promise to consumers and shareholders.
Show full letter
2020 was marked by COVID-19, and the societal and economic disruption brought on by the global pandemic left no one or no business untouched. For Scandinavian Tobacco Group, it presented significant challenges to most aspects of the Group's operations but none more important than keeping our 11,000 employees safe.
Overall, Scandinavian Tobacco Group responded effectively to COVID-19 and swiftly put measures in place to keep our people safe, to serve our consumers and to maintain business operations. The strength and resilience of our business, in combination with the dedication of our employees who worked tirelessly and took responsibility to navigate the Company through the crisis, enabled us to weather the storm so far and emerge stronger.
STRONG PERFORMANCE
As authorities across the world implemented measures to contain and fight the spread of the Corona virus early in the year, we suspended our financial guidance due to lack of transparency on consumer behaviour and consumption. However, tobacco consumption proved resilient and later in the year, we reintroduced and raised our guidance as a consequence of strong growth in the consumption of handmade cigars in the US and online sales that were higher than expected.
This growth sustained for the rest of the year and we were able to present strong results during 2020 with organic growth in net sales of 6.6%, an organic EBITDA growth of 14% and strong free cash flow before acquisitions of DKK 1,394 million.
The continued strong cash flow is testament to the strength of our business which allows us to propose an ordinary dividend payment of DKK 6.5 per share to our shareholders and launch a share buy-back programme with a value of up to DKK 600 million. The programme follows the completion of the first share buy-back programme ever in Scandinavian Tobacco Group with a total value of DKK 300 million which was completed in February 2021. On the back of the 2020 results, we will distribute above DKK 930 million in total to shareholders. We continue to regularly evaluate our total cash distribution to ensure alignment with our financial performance and the investment needs of the business.
ROLLING TOWARDS 2025
In the course of 2020, we completed the transformational programme Fuelling the Growth which since its launch in late 2018 has professionalised and modernised our Group and increased overall cost efficiency and operational performance. We managed to complete the programme and reach the DKK 250 million run rate savings target one year ahead of time.
In addition, the integration of Agio Cigars, which is the largest acquisition in the history of the Group, is on track to deliver the expected synergies and firmly establish Scandinavian Tobacco Group as a leading company in our industry.
Another key milestone in 2020 was the internal presentation and launch of our updated strategy – Rolling Towards 2025. The strategy renews and revises the vision and sets a clear strategic direction for the Group for the next five years with five focused must-win battles and a set of defined new values to support us in being our very best.
Rolling Towards 2025 is the natural next step in the development and professionalisation of Scandinavian Tobacco Group. It cements our focus on cigars and will ultimately enable us to become a larger company, to grow EBITDA and to create outstanding cash generation to support our continued growth and for our shareholders.
OPTIMISTIC ABOUT THE FUTURE
Looking forward to 2021, we remain optimistic about the opportunities for Scandinavian Tobacco Group in the future despite challenging market conditions. Our new strategy unites our employees behind a new purpose and sets a clear direction for how to achieve our vision of becoming the undisputed, global leader in cigars. Based on the strong business performance in 2020 and the passion and perseverance of our employees, we have the prerequisites to create further value for our shareholders.
We would like to offer a sincere thank you to every employee in Scandinavian Tobacco Group for their dedication and hard work in steering the organisation through a turbulent and dramatic year and to our shareholders and customers for their continued trust in our company.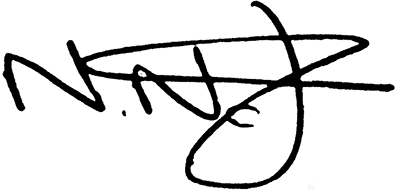 Nigel Northridge
Chairman of the Board of Directors

Niels Frederiksen
CEO