Back
HOW TO SELL CIGARS IN A PANDEMIC
2. DRIVE SUSTAINABLE PROFIT GROWTH IN MACHINE-ROLLED CIGARS
COVID-19 restrictions meant customer visits were out. So Scandinavian Tobacco Group's sales reps switched to the telephone – it took some getting used to, but the result has been increasing market share.
Sales reps are used to life on the road – in the car, visiting customers, day in and day out. But not in a pandemic.
Many stores closed and those which were open implemented social distancing. Either way, there was no time or space for retailers to speak to Scandinavian Tobacco Group reps when queues of customers stretched out the door.
In a quick and effective adaption to the new COVID-19 reality, tele sales proved an effective addition in Scandinavian Tobacco Group's key European markets – and the results are clear.
The switch came with challenges, but by implementing tele sales rapidly and ironing out issues as they came up, the European team successfully contributed to increasing market share, a key method of driving sustainable profit in machine-rolled cigars across categories. The combined market share in the largest European markets (France, Belgium, the Netherlands, UK, Germany, Spain and Italy) was 33.3% in the second quarter of 2020, versus 32.7% in the first quarter.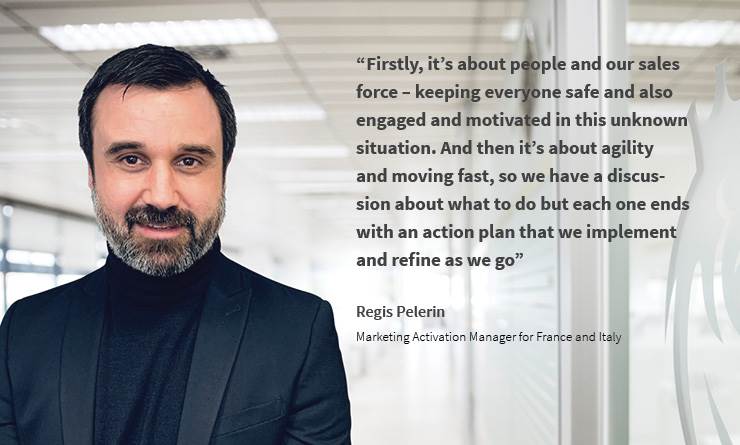 "Firstly, it's about people and our sales force – keeping everyone safe and also engaged and motivated in this unknown situation. And then it's about agility and moving fast, so we have a discussion about what to do but each one ends with an action plan that we implement and refine as we go," says Regis Pelerin, Marketing Activation Manager for France and Italy.
"Sometimes being bold can bring you more value than discussing the nitty gritty details for months – and then you find the answer but by then the question has changed. This is where we are trying to make a difference and show we can move fast and increase share in market and volume."
WEEKEND WONDER
On Thursday 12 March, International Channel Development Manager Michael Seier Petersen and Competence Development & Implementation Manager Peter Brüggemann were appointed to lead a COVID-19 taskforce. They had to be ready to brief Scandinavian Tobacco Group's markets on Monday 16 March on how they were going to handle the coming lockdowns across Europe.
The focus was on getting customers to overstock as there was an expectation of hoarding, and to avoid out of stock situations. Further to ensure customers bought Scandinavian Tobacco Group products to provide cash flow, which is even more important in a crisis.
It was clear that people would have to work remotely. Sales by telephone was the obvious solution but it posed challenges for reps and customers who were used to dealing with each other in person. This was addressed by providing a script that covered the essentials and biweekly meetings to assess how best to engage with customers in this situation, and how best to motivate reps who were working under pressure.
"This was something that previously might have taken us months to discuss and implement," said Christian Grønbech, VP Commercial Excellence. "The team and market in cooperation here was quite fantastic – they implemented new ways of working over a weekend, introduced new measurements and started to embed it in the organisation. Change is a constant in our industry, and when we face it and have to react swiftly, we can actually do it."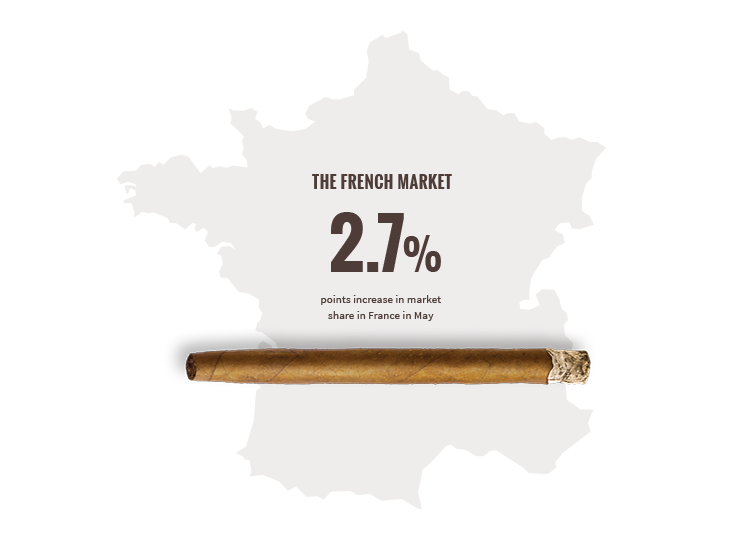 By reacting swiftly and clearly and supporting its sales reps, Scandinavian Tobacco Group achieved two important things – increasing market share and launching new products by phone, for the first time. In May, there was a market share increase in France of 2.7 %-points, to 51.2%.
Importantly, market shares grew for the top two brands, Signature and Mehari's and the main premium brand La Paz.
LEARN AND GO AGAIN
Of course, the first challenge was to keep people safe. The second was, experienced reps had no idea of how to interact with their contacts by phone, including some of the usual best performers.
This required training, regular monitoring and sharing of best practice, as everyone learnt from each other – including basic things such as avoiding calls during lunchtime for many retailers. Perhaps most important was regular check ins, sometimes with a fun theme such as a competition or a breakfast meeting with a skiing theme, so people didn't feel isolated from colleagues when working from home.
Moving from monthly to weekly objectives send a message to sales staff that no one could predict the future, and targets would be adapted as the situation became clearer. Achievable volumes were set in coordination with those on the ground, because it was simply impossible to tell how retailers would react and orders could differ widely each week.
"Firstly, sustainable growth is a consequence of the right people with the right equipment and right motivation – and that meant keeping everyone on board and engaged and motivated in this unknown situation," says Petersen.
"Then it's about agility. Each discussion should end up with an action plan to show we can move fast and increase share in market and volume. You can't have a plan 100% ready to go in the current situation – it's about execution. Try something and if it fails, fail fast, learn from it and try again."