Back
PLANNING THE UNPLANNABLE
5. EMBRACE A PERFORMANCE CULTURE
A focus on performance has enabled Scandinavian Tobacco Group to react swiftly to COVID-19 in its handmade cigar factories. Protocols for safe working were quickly put in place and best practices adopted globally, and production has actually increased to meet rising demand.
Waking up on the morning of 1 January, there was no way Scandinavian Tobacco Group's Operations team could have planned out 2020.
The business of producing handmade cigars is particularly disrupted by COVID-19 because of social distancing and hygiene regulations, which significantly complicate the normal running of factories – where people work in relation to each other, how they take breaks, and even how they get there at the start of the working day.
"We were very agile in our response," says Roger Ferrera, QEHS Manager, Handmade Cigars. "We defined what are we going to do and our references to know we are doing the correct things, based on information from the Centers for Disease Control (CDC) and World Health Organization (WHO), and made is easily understandable. In fact, in the Dominican Republic and Honduras, we acted as a coach for other non-STG factories in Honduras and the Dominican Republic who were struggling with what to do".
Across three continents, 14 production facilities and above 6,500 employees, the efforts of the Operations team have made Scandinavian Tobacco Group an industry leader in how to tackle the pandemic and ensure safe working conditions – all while increasing production at the same time. The company's factories were the first to reopen in some countries and plans were shared with competitors for how to keep employees safe.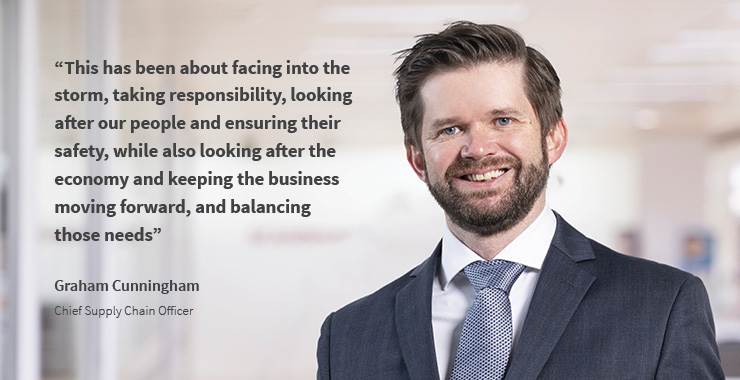 "It's important not to drive yourself insane looking for the correct answer, because there isn't one globally," says Graham Cunningham, Chief Supply Chain Officer. "You have to have a global framework defining a small number of core principles and then incredible local agility to adapt to what you see in the moment, to mine best practices and to continually refine as you go to improve. To do that, it's important for employees to help us and tell us what isn't going well and I'm particularly pleased by the feedback that we received from peer to peer observations across the Operational footprint. In short, the whole performance culture regardless of location or seniority is key."
New boundaries
The Operations team's response to COVID-19 shows Scandinavian Tobacco Group's performance culture in action. The company is continuing to make the organisation more professional by embedding a focus on performance into its global operating model, based on accountability, agility, professionalism and efficiency.
Embracing a performance culture in this way will ensure the company is aligned and moving in the same direction and ensure consistent improvement in the business and for individuals.
"This has been about facing into the storm, taking responsibility, looking after our people and ensuring their safety, while also looking after the economy and keeping the business moving forward, and balancing those needs" Cunningham says.
Ferrera explains that as soon as the WHO issued a global alert, a response team was formed across all the company's factories. There were daily meetings and factories were considered on an individual basis, as the pandemic was at a different level in different countries. A protocol was in place as soon as a pandemic was declared, and thus it was relatively simple to implement measures and standardize initiatives across factories.
Measures include temperature monitoring, giving people masks – including making reusable masks, when there was a shortage of certified products – changing production facility layouts to ensure people are distanced and adapting shift patterns to adapt to curfews.
"We redrew our boundary for responsibility for employees. Traditionally this is at facility gate, but we moved it back to the bus they take to work and ensured there was hygiene gel at entry and people were sat at a distance," Ferrera says. " This best practice came out of Indonesia and we adapted them for Dominican Republic, Honduras and Nicaragua. It took just two weeks between seeing this best practice in Indonesia and using it worldwide."
Offering a respite
The response was based on previous experience with SARS and MERS, which meant that Cunningham took the issue of COVID-19 to the Executive Board already at the turn of the year. Standard seasonal flu policies were enacted, including increasing stock of antibacterial and hand gels, and this early work meant Operations was better prepared when the pandemic took off.
"It was defined by common sense in many cases. We didn't know too much about the virus at that stage, but we started to ask ourselves, how can we ensure crowded areas are safe?", Ferrara says.
The company is now manufacturing double the amount of handmade cigars than at the start of the pandemic. The Operations team has organised that radical increase in production while keeping people safe – a difficult job but very rewarding when done well.
"What has been very helpful, during these tough times, has been focusing on our purpose," Cunningham says. "Millions of our consumers turn to our products every day and through their own personal rituals look for a respite from everything that's going on around them in the world, and we're actually quite privileged to be able to offer them that respite."