Back
KEEP IT SIMPLE
4. SIMPLIFY EVERYTHING WE DO
Scandinavian Tobacco Group's financial processes work on 12 separate enterprise resource planning (ERP) systems. Streamlining this and moving to a single system will make tasks, such as integrating acquisitions, simpler and free up time for people to focus on other business activities.
Many incoming invoices must be printed, approved and scanned several times before appropriately authorized for payment. This is still a common method of processing invoices in some parts of Scandinavian Tobacco Group, where there is no invoice workflow system to support the process.
An employee needs to purchase office supply items or incur expenses in connection with a business trip. There is a policy setting out how this should be done and what can be spent, but it may vary from one location to another, and the guidelines may not be simple to find.
These are examples of how business leaders with a global responsibility that span up to 12 enterprise resource planning (ERP) systems need to navigate differentiated processes and policies, and have little system support to ease the administration.
"The fact we are still using this kind of invoice process was a bit old fashioned," says Stig Rutving, Vice President Financial Services, who joined Scandinavian Tobacco Group in 2020. "In future, we will push to have a purchase order approved before the commitment is made, instead of approving the invoice - and we will automate approvals, where we can guide staff through system design, to stay within policy."
"We will work to increase the ease of use of all financial administrative processes. Where approvals are needed, it should be a simple task popping up on your phone that only requires a tap of a button, saving a huge amount of time and administration across company. We can then use this time to grow the business and improve efficiency."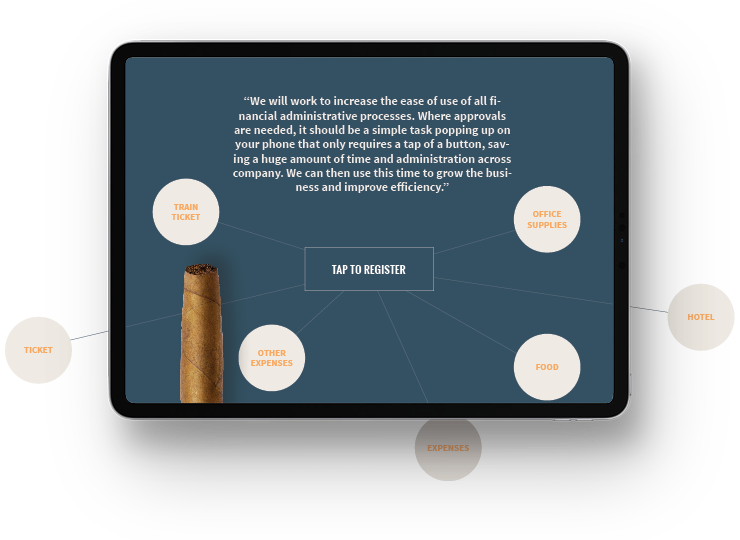 Empowerment and agility
Data has become less transparent and processes have become more complicated as Scandinavian Tobacco Group has expanded through acquisition of family-owned companies, each using its own legacy system and data structures. The overall aim of these processes and structures is the same, but variations across locations limits efficiency and makes global transparency only possible if reported in fixed formats.
The new Global Financial Services organisation – headed by Rutving, who works with Rebecca Chen, Director Global Process Owner – aims to ensure effective and standardised transactional finance processes across the company. Standardisation will create a reliable, single set of data as the basis for sound business decisions and ease the process of integrating new acquisitions.
"It's about empowerment and agility," says Rebecca Chen, Director Global Process Owner. "It becomes so much easier for people to navigate in their responsibility area and we can really empower people to take decisions at the lowest level possible. In this way, it will provide much more agility."
Expenses and office supply are just two practical examples of the improvements that can be expected from this transformation, which will pave the way for moving to a single, global ERP, called One Process Project.
"My hope is that, with as much automation as possible, we can protect the values of the company and ensure that we have smooth administrative processes that are easy to use," Rutving says. "By creating transparency and simplicity in data structures, we will help business managers and decision makers to make the right decisions based on solid data that we create."
Making it fun to grow
Standardised processes will make integration easier – for instance, by creating a template which can be followed for similar tasks in all future acquisitions – while still allowing for variations to meet specific requirements in particular countries within the same overall system.
This will assist with the ongoing integration of Agio Cigars, a leading European company which was acquired in 2020, and its 3,200 employees and provide a solid foundation for the future.
"Every time Scandinavian Tobacco Group makes an acquisition, we are bombarded with things we need to do and it's a lot of work," Chen says. "It's not fun to integrate a new acquisition with the structure we have now, as there are so many obstacles and risks we have to manage. Instead, we want to make it fun to grow."