Back
INTEGRATION – THE KEY INGREDIENT FOR A SUCCESSFUL ACQUISITION
3. INTEGRATE NEW MERGERS AND ACQUISITIONS
The acquisition of Agio Cigars is the largest in the history of Scandinavian Tobacco Group. Once the deal was closed in 2020, the priority became integrating quickly to efficiently add value to the combined business. The process is going well, and there are some lessons which can be applied to future acquisitions.
Closing an acquisition is far from the end of the story – in many ways, it's just the start.
Scandinavian Tobacco Group aims to grow, strengthen its brand portfolio and leverage its costs through successful mergers and acquisitions, and the integration of its largest acquisition to date – Agio Cigars, a leading European company with 3,200 employees – bodes well for the future. In fact, as Senior Vice President of the Europe Branded division Jurjan Klep puts it, the success of a transaction can only be judged by the success of its integration – which is also part of the Group's new strategy.
There are three key success factors in the Agio Cigars integration. Two of these have been achieved: integrating without disrupting the business and building the organisation around strong skills and capabilities, without losing key personnel. And the third factor, delivering synergies, is on track.
"Overall, it's really looking good and adding value to the business. There are always things you want to do better, and these are important to learn so we can integrate even better in the future," Klep says. "We haven't seen any disruption in the business – in fact we have grown our market share, whereas previously with acquisitions there has been some loss at the start."
More competitive and profitable
The combination of Scandinavian Tobacco Group and Agio Cigars is expected to deliver substantial
cost synergies in sales and marketing, production and back office functions. When the full integration has been completed by the end of 2022, it is anticipated that Agio Cigars will contribute to an increase in Scandinavian Tobacco Group's EBITDA margin before special items of more than 2%-points, based on estimates of net synergies of DKK 225 million.
Integrating Agio Cigars into a new company structure – with three divisions, fewer sales offices
and an optimised production footprint – shows the adaptability needed to stay competitive in an industry with declining volumes. As a result, Scandinavian Tobacco Group is building a significantly more competitive and profitable company with a powerful brand portfolio, strong market positions and robust supply chain for the benefit of employees, shareholders, customers and consumers.
"The blueprint for the new organisation is built on the strengths of both companies and on the best practices that have been identified in each," says Laurie Ræbild, Director Transformation Management Office."
"We have involved employees from both Scandinavian Tobacco Group and Agio Cigars to ensure we get the most comprehensive view and fair and equal treatment for both groups. There is a good mix of people, with the right experience and skills, in key roles in the new organisation."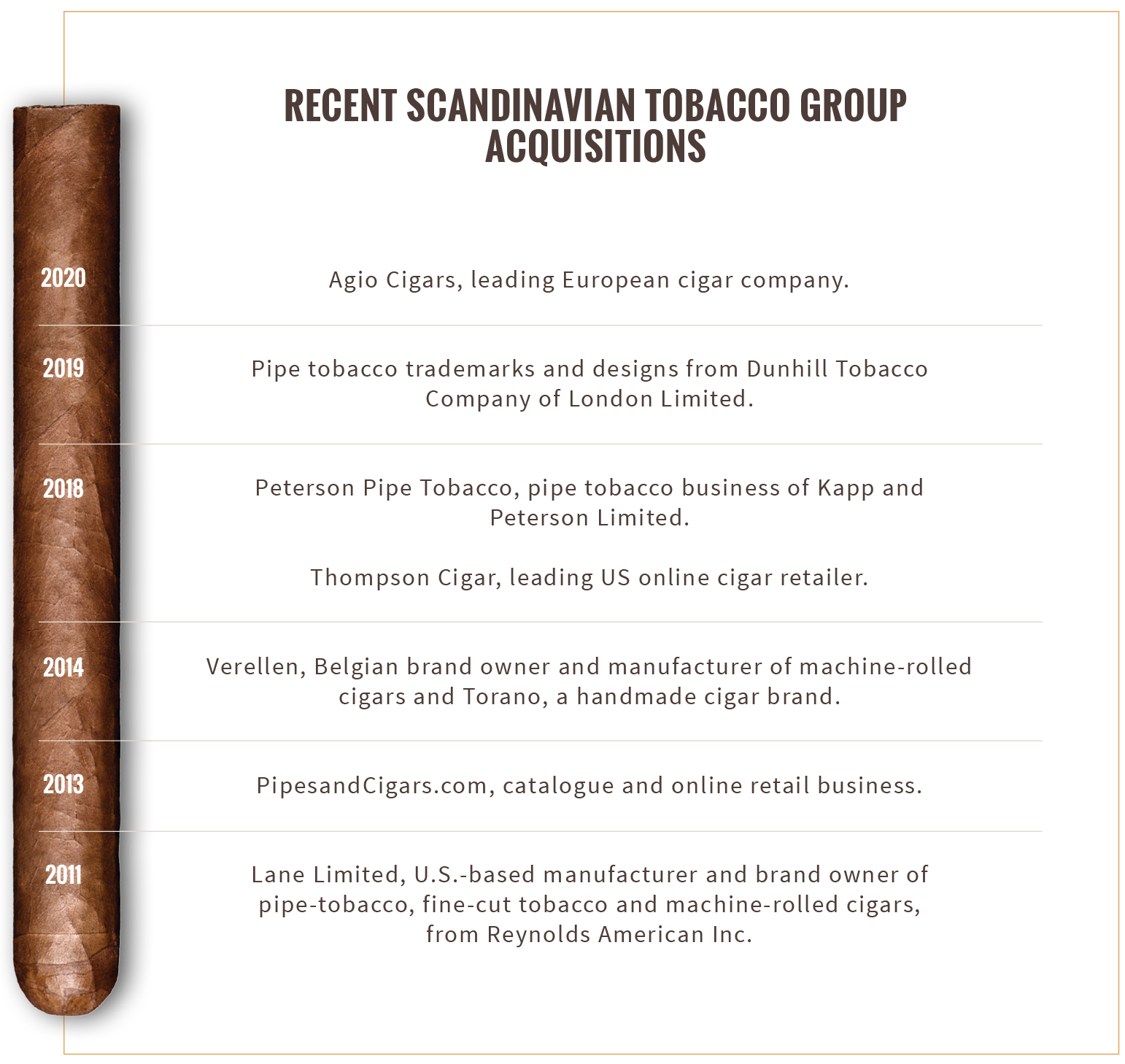 Do it better
Just because the integration is progressing well, it doesn't mean the team isn't looking at things that could be done better in the future. One change that will be a considerable help is that Scandinavian Tobacco Group is moving to a single enterprise resource planning (ERP) system, which will make integrating different IT systems considerably easier.
"Each workstream was managed by people already in the company, and they did a very good job alongside their regular duties," Ræbild says. Having professional project managers running each workstream alongside our STG colleagues would have eased the massive and structured project work that had to be done, as they have direct experience of running complicated cross-functional projects that influence and depend on each other. The Strategy & Transformation department is taking into account all these learnings, which will be key drivers of future M&A.
Importantly, almost the entire process has been carried out remotely due to COVID-19 and the associated challenges in communication. Face-to-face meetings are particularly important when employees are uncertain of what the future holds, so the successful integration so far is testament to the adaptability of those involved. A dedicated change management team, with people on site and communicating regularly and often, could also help with that in the future, Ræbild adds.
"Our ambition is to be a great integrator, and we're not there yet. It's very much about how we are organised and simplifying the processes we have. The areas to improve are a fragmented IT landscape, complex processes and lack of professional project managers and by addressing these, we can achieve our ambition to become the best integrator in the industry," Klep says, summing up.
"The positive mindset, team spirit and motivation of the people involved in the Agio Cigars integration are making it one of the most successful acquisitions in the history of Scandinavian Tobacco Group, and I would like to thank all our colleagues for their hard work in making this so."